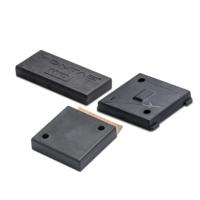 Iron Tag
Nuevo
HID
Módulos RFID
Compact UHF RFID tags that enable tracking of metal assets in harsh environments
Deliver exceptional performance on metal surfaces, and they are built to withstand vibration, shock, chemical exposure and fluctuating temperatures.
The transponders enable radio frequency identification (RFID) tagging of metal equipment and components that are subject to severe conditions.
Patent-pending designs meet standards for the most demanding industries, including aircraft manufacturing and fleet management.
Aplicación en:
Asset tracking and logistics
Equipment
Fleet management
Machinery
Metal tools
Automation and manufacturing
Assembly line management
Aircraft parts tracking
Industrial component tracking
Características:
Exceptional size-to-performance ratio – reliably read-write when mounted on metal objects from up to 13 ft (4 m)
Advanced technology – UHF permits anti-collision capability and fast data rate communication
They handle temperatures from -40° F (-40° C) to 428° F (220° C), are waterproof, resist high-pressure/high-temperature washing and withstand exposure to fuels, oils, salt water and ultraviolet light. They are resistant to pressure (<100 bar), vibration and steady flame for short periods. IronTag 206 units deliver the highest flame resistance rating available
Noticias relacionadas
No hay noticias relacionadas