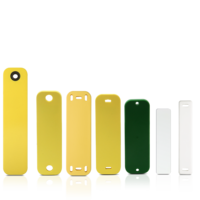 SlimFlex Tag
Nuevo
HID
Módulos RFID
Pliable rfid tags mount anywhere and edure rugged conditions. Are among the most advanced general purpose flexible tags available. The unique thermoplastic elastomer (TPE) housings – made from the same materials used worldwide to manufacture automobile pipes and hoses – tolerate repeated bending or torsion, while maintaining excellent performance characteristics. SlimFlex passive contactless transponders improve data collection speed and accuracy for logistics applications. Anti-collision functionality, fast data-rate communication and password data protection enable precise, reliable reading and updating of each tag's large user memory. Available in multiple configurations:
Rectangular SlimFlex tags attach snugly to round or irregular surfaces, such as cylindrical containers, plastic pipes, helmets or even trees.
Designed for garments, each SlimFlex Laundry tag withstands chemical exposure and high temperature of related washing cycles. SlimFlex Laundry tags enable automated sorting, inventory and accounting for commercial cleaners.
The SlimFlex Tag Washer has been designed with one reinforced hole to rivet it.
Aplicación en:
Asset tracking and logistics
Inventory management
Itemize tracking of pallets and goods
Cylindrical items such as plastic bins or tree trunks
Laundry, medical & health
Uniform companies
Commercial laundry
Hospital laundry
Medical compartments
Returnable transport items
Shipping container or pallet tracking
Waste management
Commercial and industrial plastic bin identification
Características:
Flexibility – Repeated bending will not impede performance; enables secure mounting on rounded or irregular surfaces
High durability – Resistant to liquids, dust, impact and weather extremes
Enhanced reliability – Precise, consistent read ranges when mounted to plastic or wood
Broadband UHF version for worldwide use at 860 to 960 MHz.
Fully interoperable, standards compliant.
Bendable TPE and TPU housing.
Waterproof; resistant to chemicals, impact and UV rays.
Large user memory
Noticias relacionadas
No hay noticias relacionadas