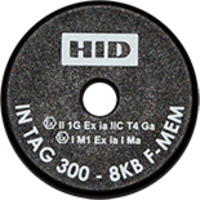 IN Tag
Nuevo
HID
Módulos RFID
Robust low, high and ultrahigh frequency RFID tags that perform in tough conditions
Passive contactless RFID transponders are highly water, chemical and shock resistant, ATEX certified for use in explosive environments, withstand peak temperatures up to 285° F (140° C) and are UL94-HB flame resistant.
Low frequency (LF) IN Tag discs perform well affixed to virtually any surface. They offer reliable, cost-effective tagging for near-proximity reader applications.
High frequency (HF/NFC) discs offer anti-collision technology for faster data processing, larger memory storage, and improved read ranges.
Ultrahigh frequency (RAIN® UHF) IN Tag RFID tags can be read from up to 9.8 ft (3 m). Entire pallets of individual containers or equipment may be identified and item level status updated, as articles roll through distribution and receiving points.
Aplicación en:
Asset tracking and logistics
Tool and equipment inventory
Maintenance management
Automation and manufacturing
Process automation
Real-time materials inventory
Food processing
Returnable transport items
Inventory and distribution tracking
Container maintenance
Waste management
Bin tracking
Recycling compliance monitoring
Improved invoicing and service accuracy
Route optimization
Incentive-based waste and recycling programs
Características:
Durable – built to withstand the rigors of industrial processing, transportation and outdoor use
Versatile – mounts anywhere without compromising performance: glass, plastic, or wood, with options for on metal mounting
Diverse selection – broad spectrum of available frequencies, memory sizes and diameters with multiple fixation methods
Food compatible
Flame and UV resistant
Disc diameters of 20, 30, 50 mm (55 mm with spacer)
Optional configurations for mounting on metal
Noticias relacionadas
No hay noticias relacionadas