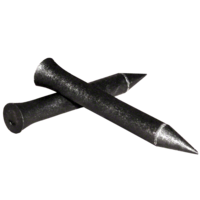 Nail Tag
Nuevo
HID
Módulos RFID
Unique nail-shaped RFID tag easily hammers into wood
The Nail Tag transponder makes tagging wood and other solid materials as easy as hitting a nail on the headThese tags are built for rugged treatment. A durable fiberglass housing protects embedded electronics during installation and use. The nail shape holds each tag securely in place. A standard drill hole allows the Nail Tag transponder to be mounted into dense materials.
Nail Tag transponders install quickly and securely into pallets and containers, enabling accurate real-time tracking, supplying organizations the data needed to optimize industrial processes, workflow and inventory management.
Nail Tag devices are also used in forestry and research applications to tag living trees.
Aplicación en:
Asset tracking and logistics
High value construction supplies
Returnable transport items
Pallets
Cartons and boxes
Características:
Fast, secure installation – tags are easily driven into place, and are nearly impossible to remove
Rugged reliability – high resistance to moisture, thermal fluctuation, vibration and shock
Unsurpassed quality – fully automated HID manufacturing and direct-bonding technology ensure dependable performance
Noticias relacionadas
No hay noticias relacionadas